By On October 24, 2021
Want to learn the ins and outs of Content as a Service and why it's the future of content management? Then this guide is for you.
Below we explain what Content as a Service(CaaS) is and how it's helping organizations to rapidly deliver omnichannel experiences by reducing the time it takes to manage and share content.
What is Content as a Service?
Simply put CaaS platforms are cloud-based content management systems which allow organizations to store, structure and manage all of their content assets such as blog posts, digital guides, marketing copy, FAQs, etc; within a single web-based application which is easy-to-use and can publish content to virtually any digital device.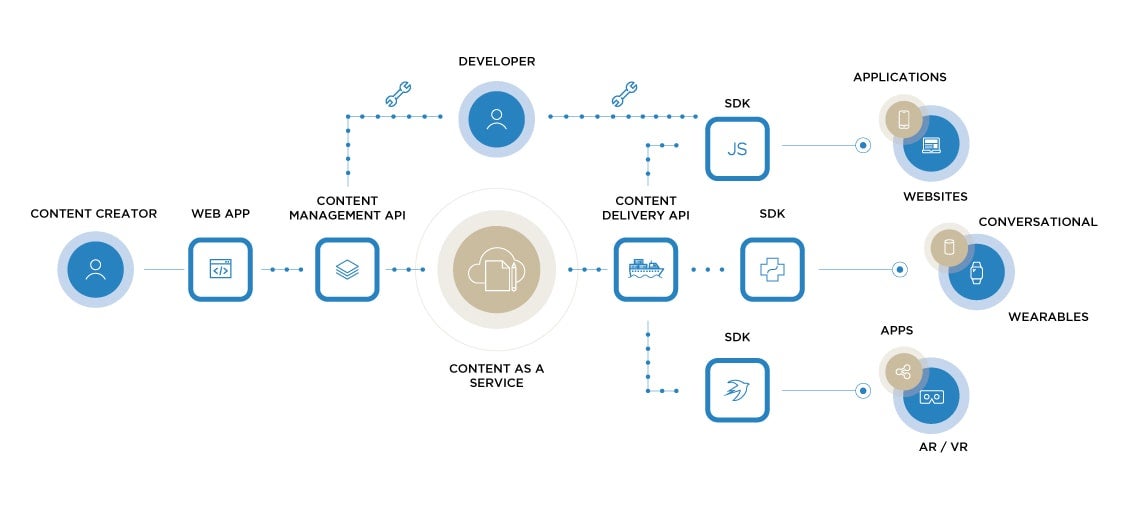 With this approach content is centralized, no longer siloed within the individual web, mobile and smart device applications managed by an organization.
CaaS platforms provide open APIs and SDKs for common coding languages so your developers can use their preferred framework for creating user interfaces.
For example:
A company which reviews restaurants globally needs to publish a blog post comparing NYC style pizza to Chicago deep dish(hot topic issue) across a handful of websites and mobile apps.
One of the marketers at this fictional company(let's call it Zelp) would create and publish a blog post, once, within the CaaS platform. The platform would then push the blog post to the handful of websites and mobile applications all managed by "Zelp". Once setup this makes publishing content as simple as tweeting, helping to fuel the great pizza debate further!
Now let's explore the key differences between Content as a Service and traditional Content Management Systems.
Different than traditional content management
Traditionally, digital content has been stored across a handful of large applications which require organizations to manage content within multiple silos.
Time and money must be invested to ensure content creators are proficient in a variety of systems. Furthermore, the frontend code is often bound to the primary code language of the platform, limiting the options for how content is shared and displayed.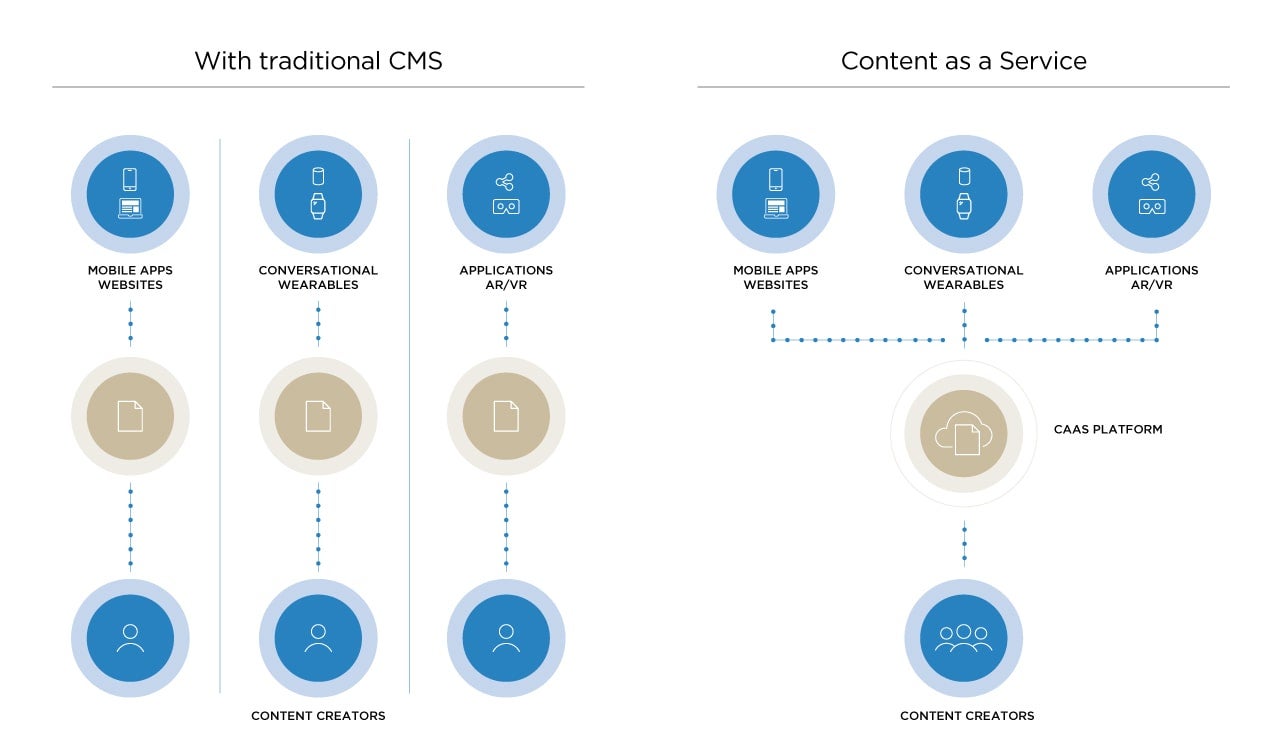 It's not uncommon for an organization to have a commercial CMS for their website, a backend system for employees and even mobile applications for Android and iOS.
This means content creators are forced to learn a multitude of content creation software, must keep track of multiple logins and ensure workflows are in place to update content across each system whenever content is published.
Reusable content then has to be re-entered by content creators, taking time and energy away from their focus of creating new content.
Needless to say the addition of a new digital channel adds a lot of complexity when managing content using a traditional approach.
Now let's take a look at the advantages of CaaS and why it is quickly becoming the next big trend within the content management space.
What are the advantages of Content as a Service?
The CaaS approach to content management is well suited for a digital strategy in which content needs to be rapidly and seamlessly deployed across multiple channels. Here's a look at just some of the advantages this approach to content management offers.
A single, easy-to-use interface for content creators
Consolidating all content within a CaaS platform means content creators are no longer responsible for learning multiple editing interfaces.

Most CaaS platforms use WYSIWYG editors along with drag and drop functionality to make content structuring and creation simple.

Workflows and permissions are commonly included functionality, ensuring medium to large organizations have control over access and publication rights.
Increased agility for deploying digital projects and content
Separating content from the presentation layer allows content creators and developers to work simultaneously. A content creator can define the structure of content within a CaaS platform and begin creating content from the onset of a project.

At the same time developers can start creating the presentation layer using the selected frontend frameworks. After a developer has finished creating the frontend interface for displaying content they would then connect the CaaS platform using the provided API.

Once connected the content will then display on the webpage, mobile app, smart device, etc.
Easily scales with your projects
A decoupled frontend empowers organizations to add additional channels for sharing and displaying content by removing the headaches associated with restructuring workflows and permissions across multiple applications.

This, coupled with the cloud hosted architecture of a CaaS platform, ensures content is almost infinitely scalable.

Additionally, metadata can be built into content as a field, helping organizations to consolidate the content portion of SEO management.
Built for the devices of today and tomorrow
Many of the market leaders in this space offer a growing number of SDKs which expand the use cases of CaaS far beyond just web content management. This, coupled with an open API, allows organizations to push content to nearly any digital device.

Channels such as mobile, smart wearables, smart home devices, smart TVs, virtual reality, voice assistants and more can source content from a single hub.
Maintenance is provided by the vendor
A benefit of cloud based services is that software upgrades, security and hosting are the responsibility of the vendor. The tradeoff being a subscription based payment model as opposed to a perpetual license.

Offloading these responsibilities has the potential to provide a cost savings and it ensures your platform is secure and on the cutting edge.
Like most things in life there are pros and cons to this approach to content management, next we will discuss the disadvantages.
Disadvantages of Content as a Service
There are some limitations to the CaaS model which can be addressed with a number of workarounds. Unlike traditional content management systems which are often large-scale, feature robust platforms the CaaS model is lighter on features but best of breed when centralizing and distributing content. Below are a few of the disadvantages which come with this model.
Reliance on developers for frontend creation
The increased agility of CaaS means that almost any frontend language can be used for sharing and displaying content. The tradeoff being that there is no single frontend for displaying content built within the CaaS platform, meaning organizations will be tasked with sourcing development for all channels in which content is distributed.

Marketers looking to create new page templates will often have rely on developer involvement. Fortunately this model does not limit content creation when using prebuilt templates.
Additional platforms needed to fill gaps
CaaS is different in that it becomes the central hub for storing, structuring and displaying content. This means that unlike traditional content management systems which contain an abundance of features(often not related to content management) the sole focus of CaaS platforms is an organizations content.

Organizations will instead have to integrate third party systems, such as CRMs, analytics platforms and email marketing tools in order to achieve the same level of functionality found within a traditional CMS.
Control of the backend code
In this model the vendor maintains control and access over the platform's code, meaning customization is generally not possible. This limits users to the configuration options provided by the platform vendor. The best solution to this is to choose a vendor who has a clear roadmap of the future which aligns with the strategy and goals of your organization.
As you can see there are some limitations but a fair tradeoff for organizations with a lot of content.
Is Content as a Service enterprise ready?
CaaS was designed with enterprise use cases in mind.
By decoupling content from the presentation layer medium to large organizations will have a central hub for managing content. Many platforms have developed roles and workflows to ensure process can be enforced. The ability to connect and display content on virtually any digital channel means that multi-channel content strategy can be streamlined. Being cloud hosted means that platforms are able to continuously scale and many vendors offer enterprise plans for organizations planning on storing and displaying large amounts of content.
The freedom, agility and scalability offered by this model allows organizations to reduce and consolidate content silos and distribute content in a multi-channel environment with ease.
Next we will detail a handful of scenarios in which CaaS makes sense.
When should Content as a Service be considered?
Need for lighter and more agile digital architecture
Traditional content management systems often ship with a large list of features which increase the size of the system, which can impact performance and often remain underutilized by the majority of users.

Decoupling content from all the "feature noise" means organizations can focus on building a technology stack that includes only the desired functionality.

Modern code languages can be used for the frontend which results in a much lighter, performance driven experience for users.
Multiple websites and web applications
Organizations with a handful of websites and web applications sharing the same content, running on various platforms, would benefit greatly from consolidating their content into a CaaS system.

Fewer systems means less maintenance and greater adoption of the content creation tools.
Mobile applications
Content can be pushed dynamically to mobile applications from CaaS platforms. This can streamline app updates by reducing the time and approval required when submitting apps to an app marketplace. Remember, the same content used for your other digital channels can be reused on mobile.
Multi-channel content syndication
The CaaS model is a great fit for medium to large organizations interested in consolidating the storage and distribution of content for publication across multiple devices.

Departments can collaborate with one another by sharing content assets or opt to operate in siloed environments.

The advantage being that all content creators are using the same platform, helping to drive user adoption and keeping management within a single application.
Why make the switch
As you can see, content as a service has a lot of utility and lends itself well to organizations looking to master multi-channel content distribution. This is the perfect alternative for those with large volumes of content who are tired of managing a multitude of traditional content management systems. The lighter architecture provides more control over the performance of each content channel along with greater flexibility for how content is shared and displayed.
If you are ready to ditch the traditional CMS platforms of old and embrace a modern, scalable, multi-channel architecture for your digital strategy then content as a service is a great place to start.
Some Content as a Service platforms
Here's a shortlist of Headless CMS platforms which we selected based on their G2 Crowd ratings along with our experience using them firsthand.
The list below contains many of the market leaders but our recommendation is to always find platforms with transparent roadmaps which align with your future content strategy and goals.

Use Butter as a headless CMS to build websites in any tech stack. Add a blog or CMS to your site in minutes. We have extensive guides and client libraries for the most popular languages. Drop-in our API and get back to more interesting problems.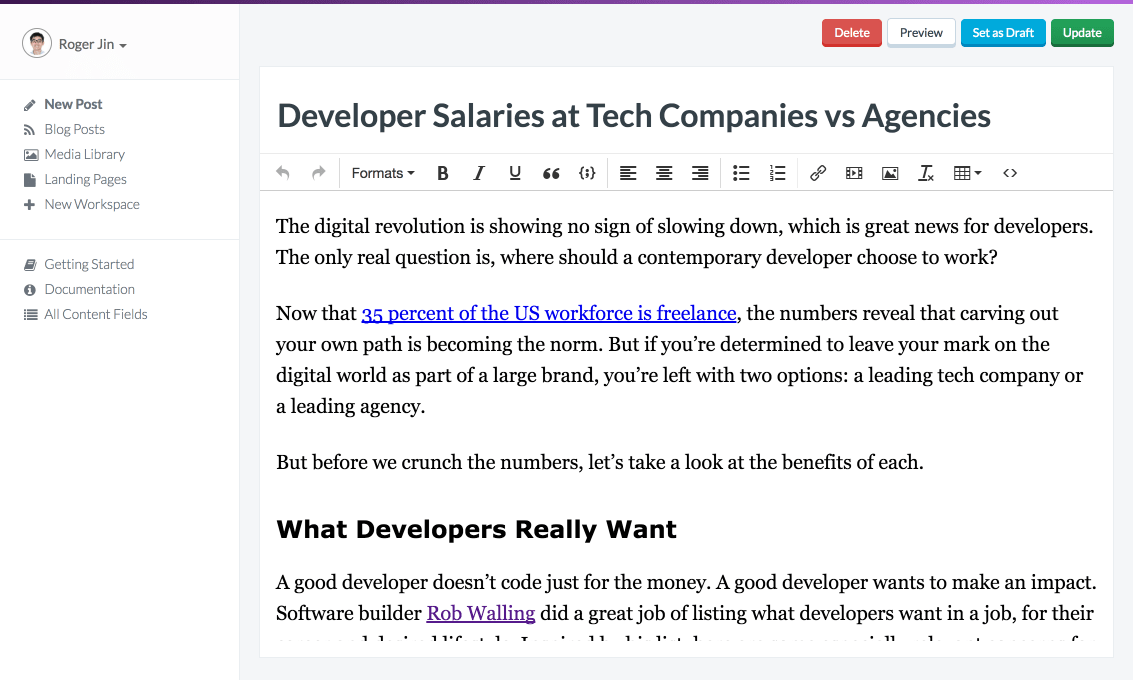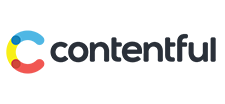 Contentful provides the essential content infrastructure for your projects, making content accessible via APIs and editable in a CMS-like web app. Companies such as Spotify, Urban Outfitters, Red Bull, Jack in the Box, The British Museum, Xoom, Lenovo and many others rely on Contentful to author, manage and deliver digital content to any device and multiple platforms.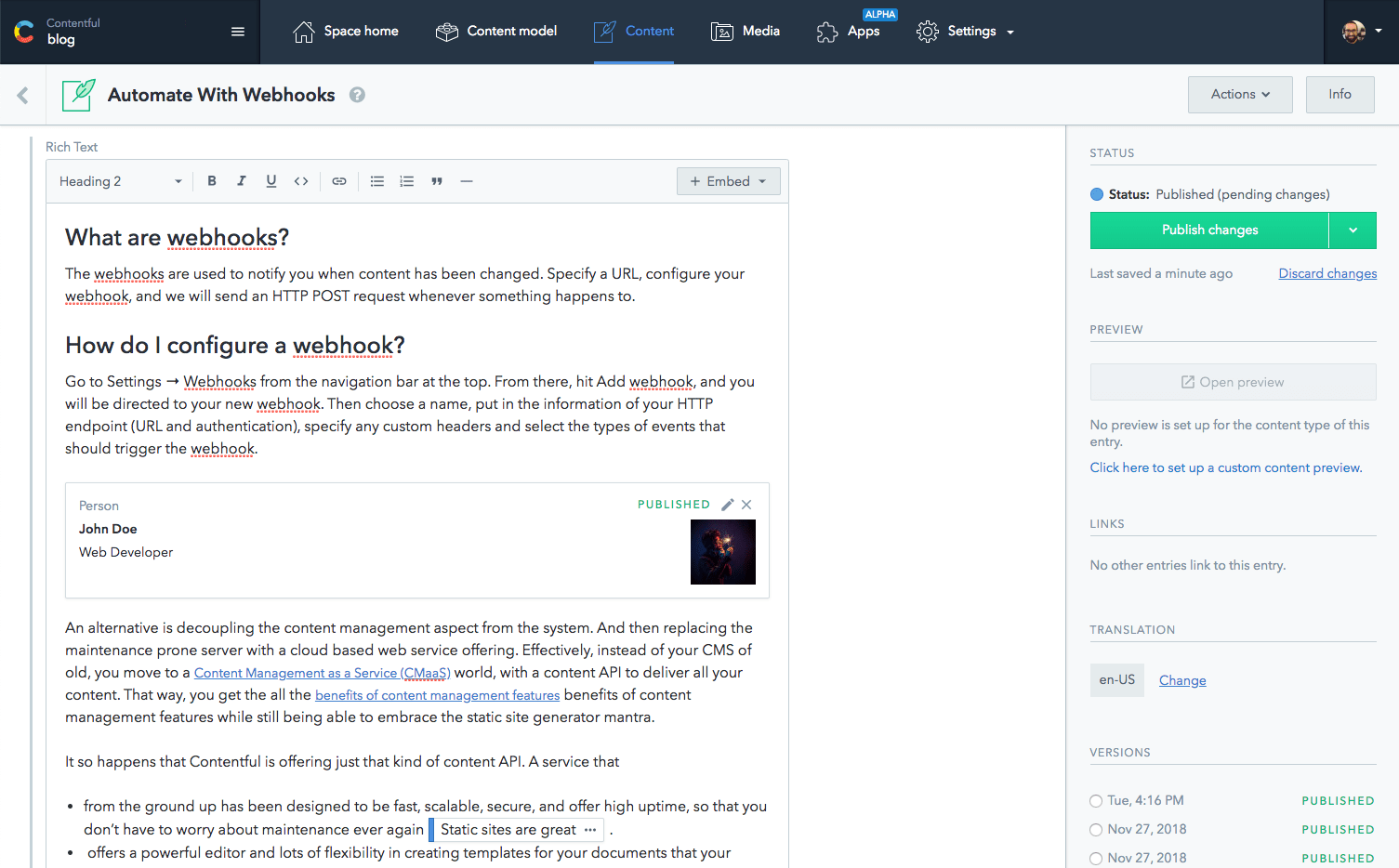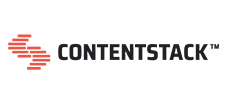 Contentstack™ is a digital content hub powering omnichannel content and digital experiences. It is considered one of the leading Content-as-a-Service (CaaS) platforms and sits at the heart of an award winning Digital Experience Platform (DXP). It is the exclusive API-first, headless CMS for the SAP Cloud and marquee customers include Cisco, Farm Bureau Insurance, Icelandair, Marriott and Miami HEAT.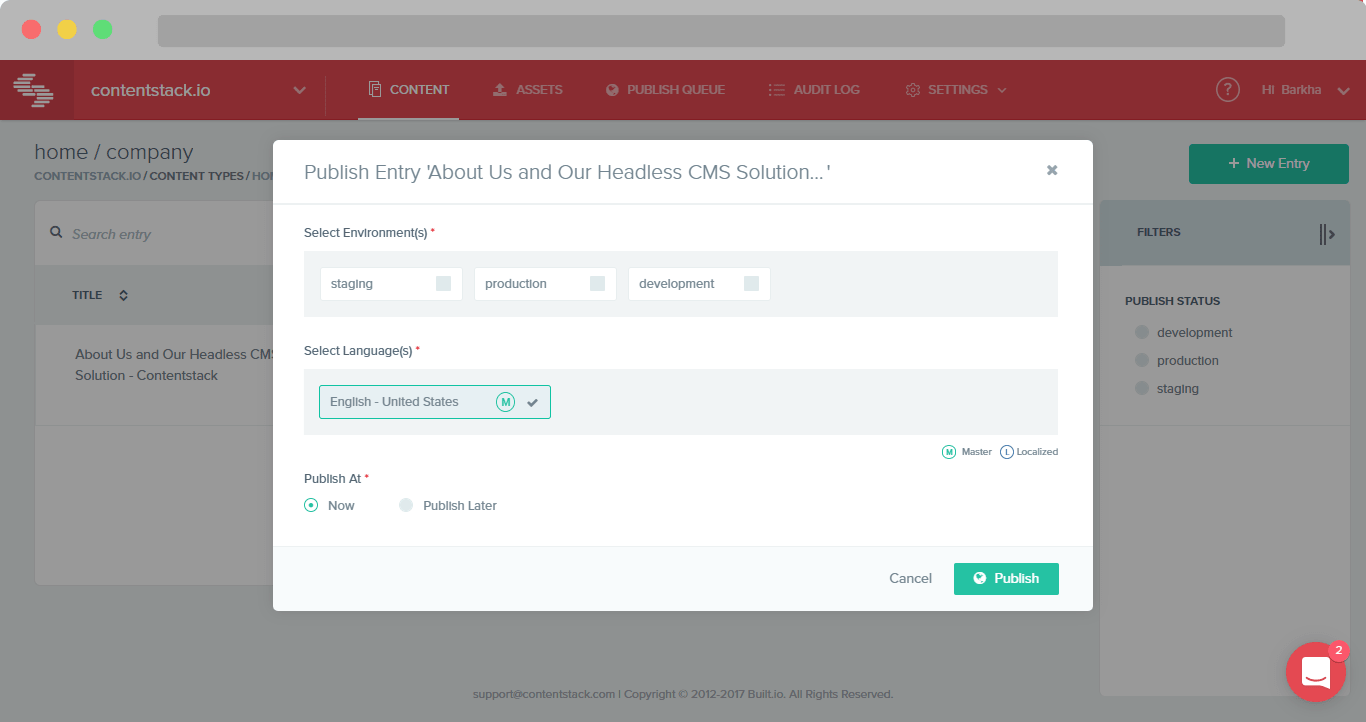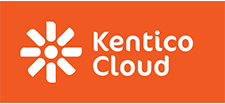 Kentico Cloud is a next-generation content management system (CMS) that enables digital teams to collaborate quickly to create engaging personalized experiences across any device. Kentico Cloud provides the tools marketers need to develop and publish content, and a flexible API for developers to integrate with any website or application using their favorite technology in a secure and scalable way.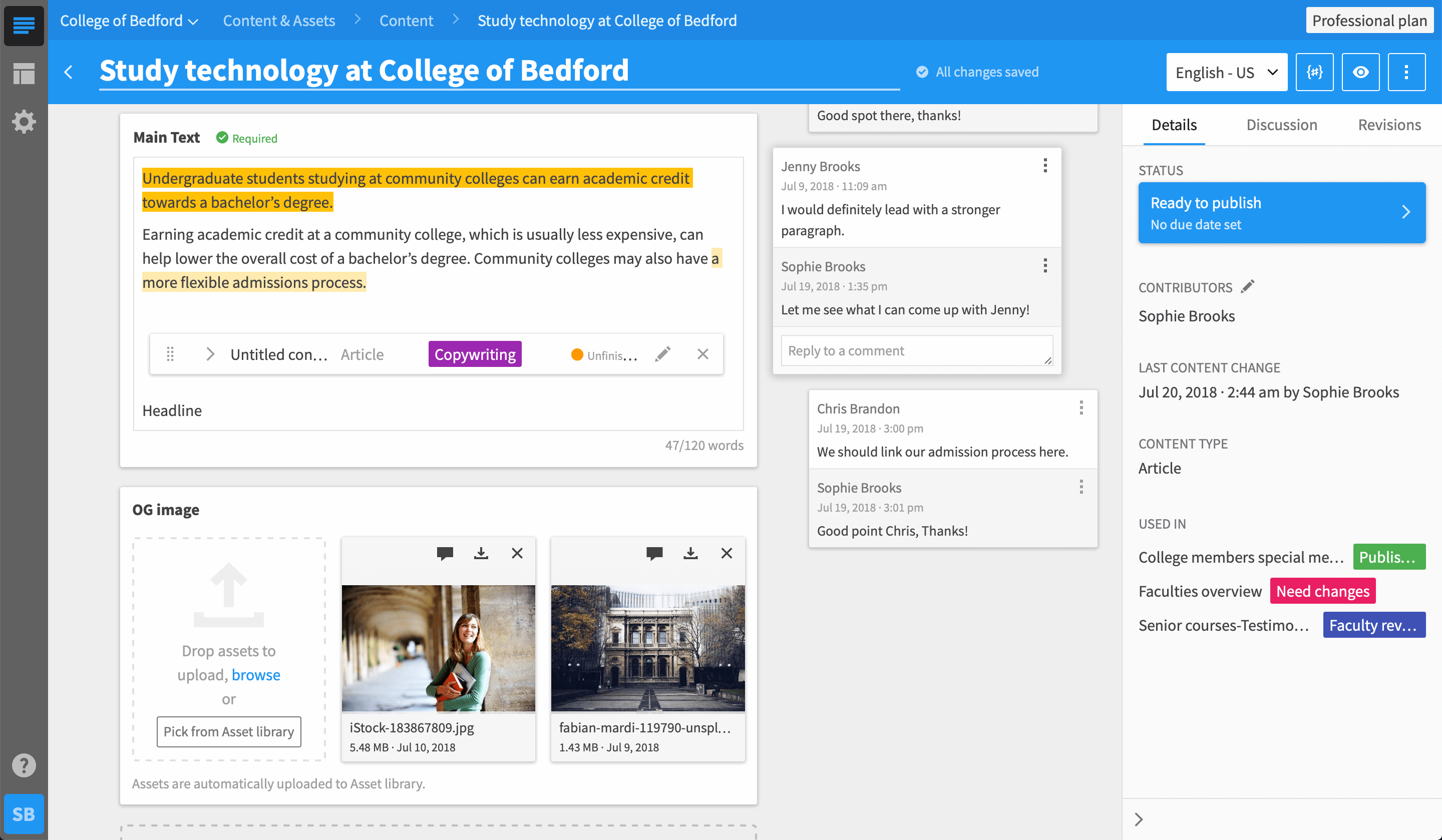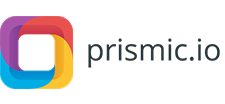 Prismic is a content-as-a-service platform that's used by 3,000+ companies like eBay, Google, New Relic, Deliveroo and Levi's to manage content in marketing websites, editorial websites, native apps, e-commerce projects, SEO campaigns, and other places. With Prismic, developers get a well-documented API and SDKs for major languages and frameworks, while content teams enjoy a straightforward editing UI.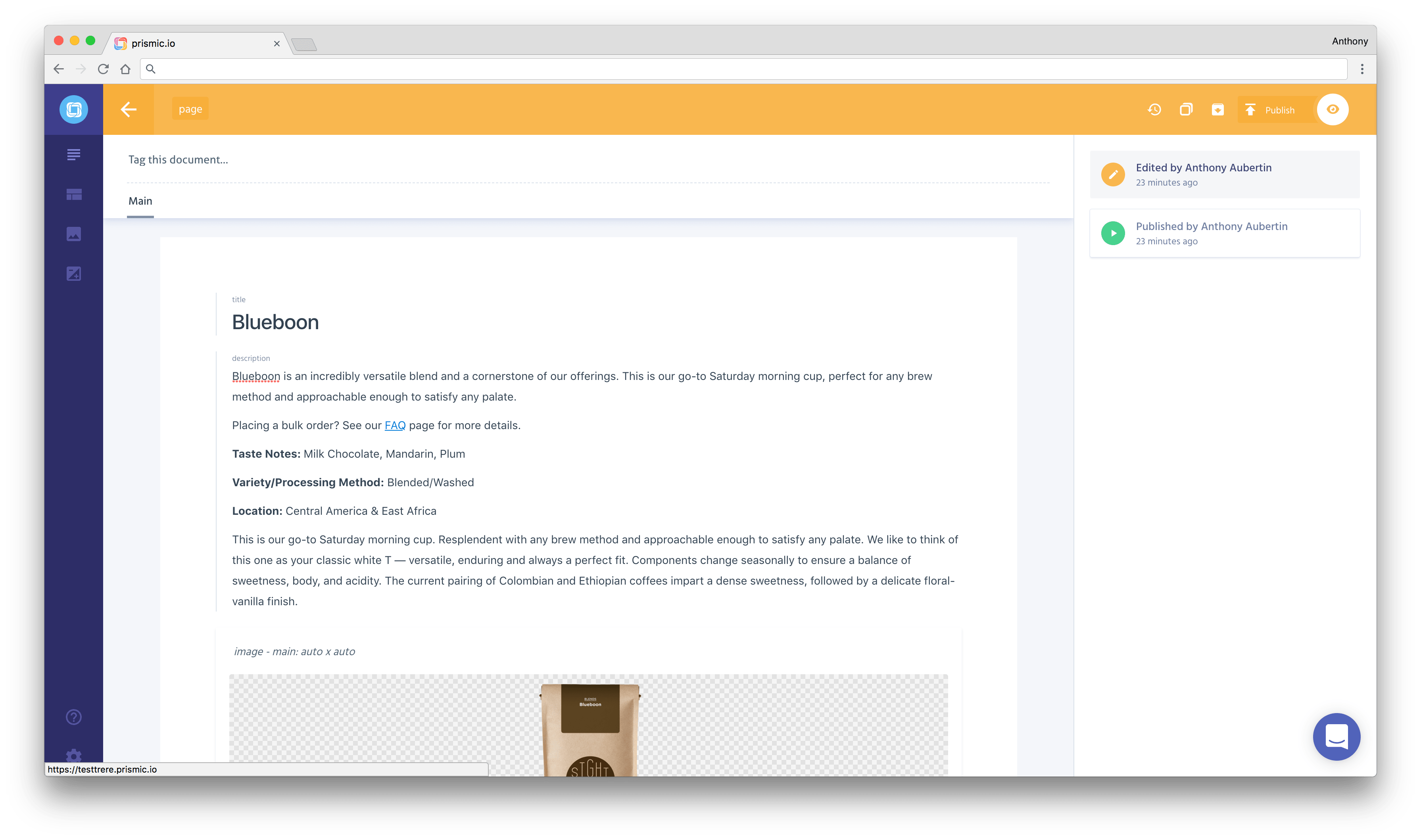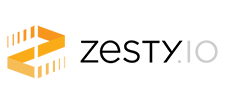 Zesty.io is the headless CMS for brand marketing teams to build content-rich websites that engage customers and accelerate sales and send that content wherever it needs to go: web or mobile applications, smart devices, voice devices, IoT, and more. Preferred by global customers like Sony Electronics, Astroglide, and Rocket League, enterprises of every size use Zesty.io SaaS platform to speed, scale, secure, and manage digital content.