Designing a website for all users: How to be ADA compliant
By Matt Bemis On October 24, 2021 Surfcode post tags: Content as a Service ,
---
We all know that buildings and physical locations must legally accommodate people with disabilities, for example, elevators and wheelchair ramps, but did you know that your website and apps also need to be compliant with the Americans with Disabilities Act (ADA)?
Stop and think about it for a second, in your own use of web sites or apps. Imagine you could not get into your online bank account and check your balance and pay bills. Would you be frustrated? If you were blind, would you feel discriminated against?
The Department of Justice thinks so and has brought an action against companies over the last 15 years including the likes of Bank of America, H&R Block, Disney, Marriott, Adidas, and over 300 other companies. Now a new range of Plaintiff law firms is taking that DOJ work and multiplying that effort with 48% of the Retail 500 being filled with ADA Lawsuits in Federal court during 2018 and 2019.
When developing a website, a number of design decisions are taken into consideration to welcome potential users. However, often times a large group of visitors are left out of these decisions: people with visual, auditory, and cognitive disabilities. According to ADA website compliance, over 60 million people in the US have visual or auditory disabilities. Making up almost 20% of the US population, this group of users could be a significant contributor to your business, and therefore ensuring your website facilitates use by those with disabilities is essential to avoid losing these customers to competitors, or worse, risking a lawsuit. Furthermore, it is a moral and ethical obligation to include this group of people and to not exclude any qualified individual from participation in or be denied the benefits from the services provided on the world wide web.
Who is responsible for making it ADA compliant?
ADA compliance and its relationship with websites have been a complicated and confusing story. In particular, determining who is responsible for deciding a website's accessibility. The developer of the website plays an important role, however, the determination of website accessibility does not fall on the developer alone. Although the developer, the automated testing, and subject matter experts play an important role in creating an ADA compliant website, it is ultimately the individual using the website who decides if a website is accessible.
Web-related lawsuits, in accordance with The Americans with Disabilities Act of 1990 (ADA), are currently being filed at a rate of one-per-hour and they impact a wide range of industries. These lawsuits can come with hefty fines and penalties from compensation fees, unplanned redesign expenses, tainted image and reputation, loss of potential customers, and loss of government funding according to ADA website compliance. We recently reviewed a national brand's website and estimated between $250,000 and $500,000 to remediate their current site. That would be almost the cost of a brand new site built correctly.
For example, in an August 2019 case, the Domino's pizza chain had a lawsuit filed against them as their website was not accessible to people with visual disabilities. The case could make it to the US Supreme Court and challenge the rights of people with disabilities.
A Brief Summary of the ADA Regulations
The Americans with Disabilities Act of 1990 (42 U.S.C. § 12101) was enacted to protect individuals with disabilities from discrimination and covers a wide range of areas including government, public and private spaces, employment, building codes, transportation, and telecommunication. The civil rights law originally only pertained to physical spaces (considering the internet was still in its infancy in 1990). Then in 2010, the Advanced Notice of Proposed Rulemaking was issued by the US Department of Justice to ensure the ADA would encompass websites.
Title II of the ADA "applies to State and local government entities, and, in subtitle A, protects qualified individuals with disabilities from discrimination on the basis of disability in services, programs, and activities provided by State and local government entities."
Title III of the ADA "prohibits discrimination on the basis of disability in the activities of places of public accommodations (businesses that are generally open to the public and that fall into one of 12 categories listed in the ADA, such as restaurants, movie theaters, schools, daycare facilities, recreation facilities, and doctors' offices) and requires newly constructed or altered places of public accommodation—as well as commercial facilities (privately owned, nonresidential facilities such as factories, warehouses, or office buildings)—to comply with the ADA Standards."
By Title II and III, institutions of higher education in the U.S. must make online lectures, courses, materials, websites, LMS, MOOCs, and any other technology accessible to students with disabilities as well as the public if made freely available.
ADA Compliance for Website Accessibility
The number of lawsuits for websites that are not ADA compliant are on the rise. In 2018, there were 2285 cases of ADA web accessibility-related lawsuits filed, a 181% increase from 2017, according to research conducted by UsableNet. In general, cases settle very quickly, where the average case is open less than 60 days. It is cheaper to settle quickly, minimizing the overall cost spent on lawyers.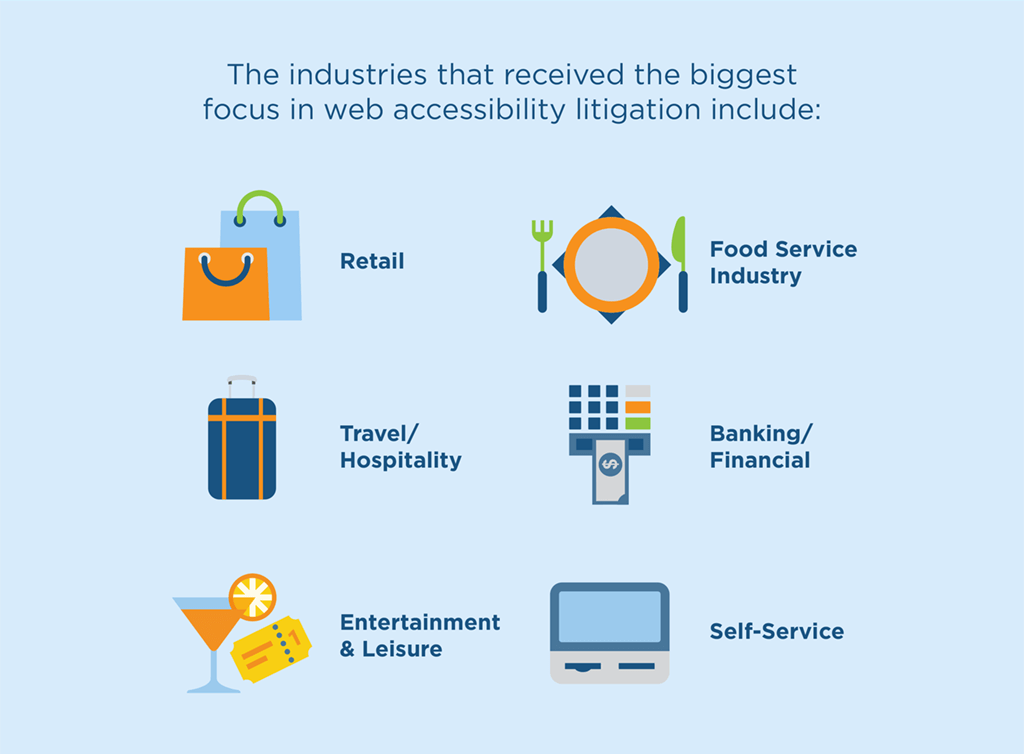 Of the top 500 internet retailers, 48% have web-related ADA lawsuits filed against them, where the most prevalent ones are among retail, food service, and travel/ hospitality. The lawsuits are most commonly filed in the states New York and Florida, likely due to the location of the plaintiff. However, company headquarters are spread out across the nation with the most common company location being in California (22% of cases) because the state has fixed minimum damages at $4,000. Other common company locations include New York (21% of cases), Florida (12% of cases), New Jersey (4% of cases), and Texas (4% of cases). As the internet does not have physical borders, some of the companies sued are headquartered internationally (6% of cases).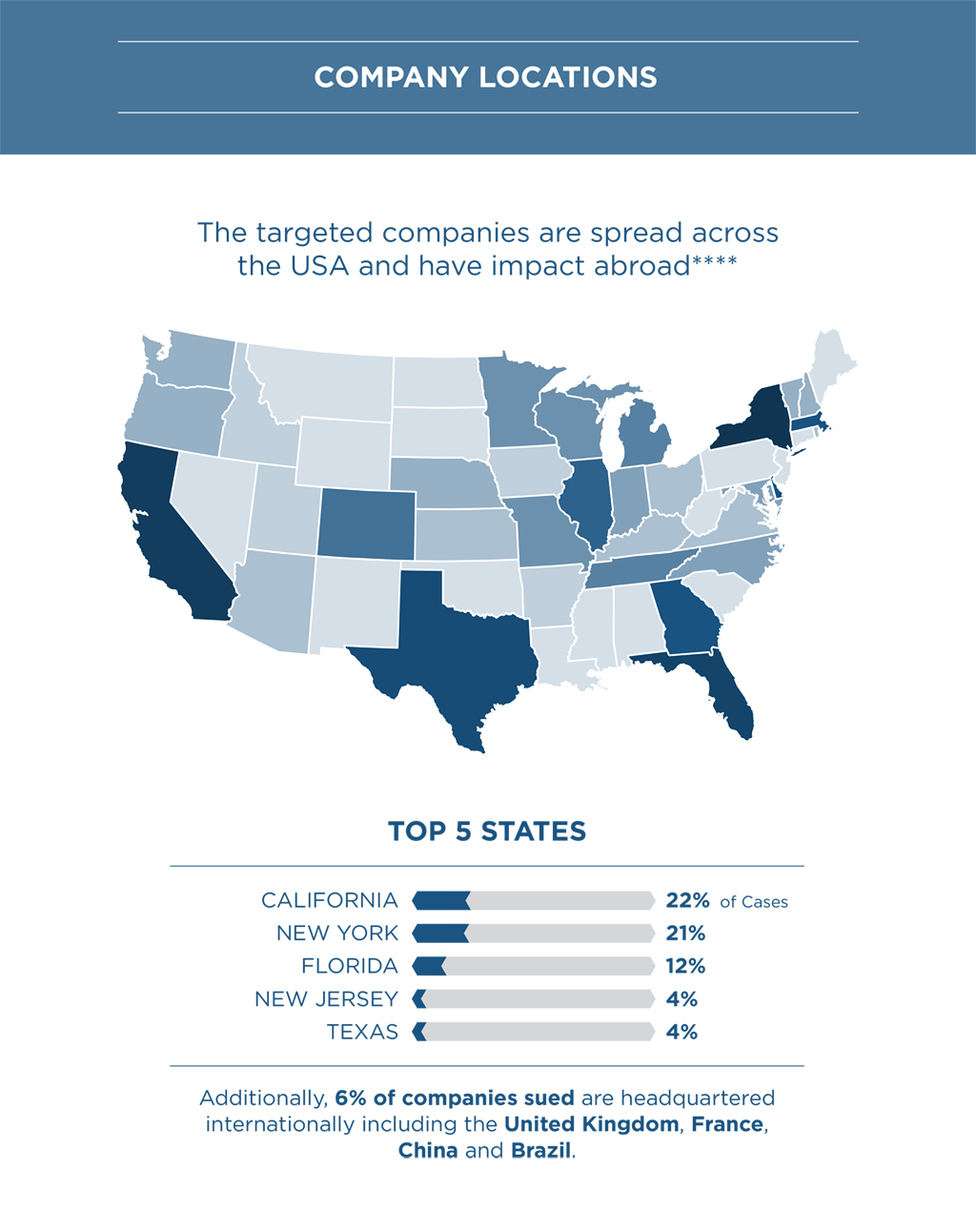 Users with Visual Impairment
According to the World Health Organization, 253 million people worldwide have a visual impairment, where the majority of individuals who are blind rely on assistive technology in the form of screen readers for the use of web browsers. The most common of these assistive technologies and devices include JAWS and NBDA. The difference is that JAWS is the standard used in an enterprise environment due to the ability to write scripts, while NBDA is a free open source screen reader. The most common combination between screen reader and web browser is JAWS with Internet Explorer (in 2017), as it has been a browser standard for many years and is used in educational settings. For some people with visual impairment, the screen reader is their primary assistive technology of choice, and thus the ability to use the website in the same way as a sighted user becomes highly important.
Four Principles of ADA Compliant Web Design
The Web Content Accessibility Guidelines (WCAG 2.1) provide guidance for developers of websites, including overall principles, guidelines, success criteria, and sufficient and advisory techniques. The four principles of accessibility provide a foundation for the other layers, they include:
Perceivable: "Information and user interface components must be presentable to users in ways they can perceive."

Operable: "User interface components and navigation must be operable."

Understandable: "Information and the operation of user interface must be understandable."

Robust: "Content must be robust enough that it can be interpreted reliably by a wide variety of user agents, including assistive technologies."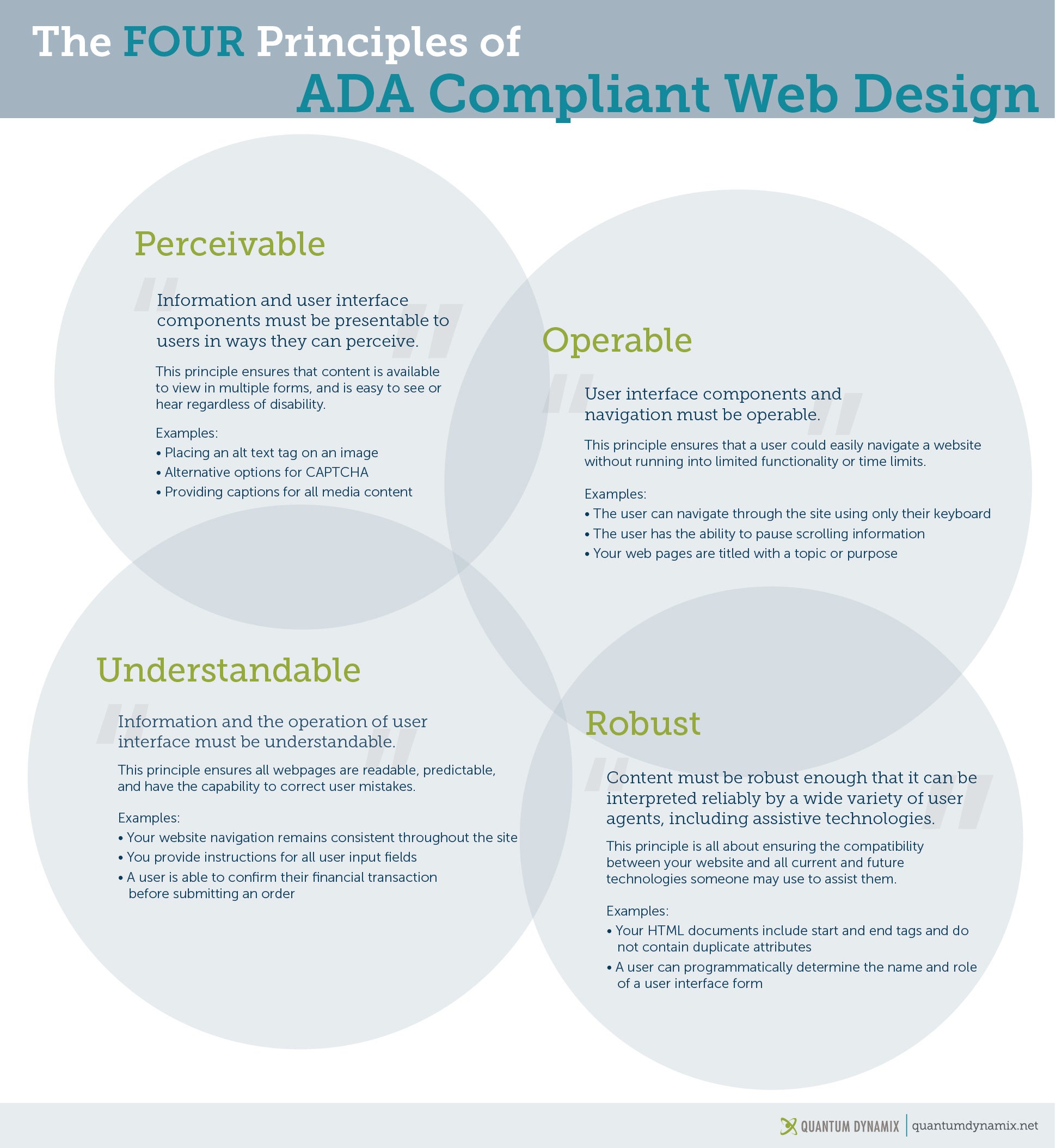 Steps to take for an ADA compliant website
Most websites do have issues, that is why taking action towards improving your website to comply with ADA regulations is highly important, especially to avoid any potential lawsuits. Begin by following the steps outlined below:
#1 First step is to make an accessibility statement. Generally, as long as you are actively working towards a standard, that can go a long way to mitigating legal issues as they are typically after sites that are easy targets. Here is some info on creating an accessibility statement. Here is a great example of an accessibility statement.
#2 Learn about the ADA regulations. A great resource for information is UsableNet's blog where you can find a wide range of articles covering a number of topics in relation to ADA regulations. Another great way to learn more about this topic is through the information and guidelines provided by W3 Standard for Accessibility. Discuss this information and guidelines with your legal team.
#3 ADA Scan. Start with a browser that already works well with your site, and then add a screen reader to that so that you avoid any additional issues. The initial scan typically takes around 50 hours to scan, create reports, assess and create a remediation plan/ estimate to fix the issues. This will put you in a good position to know what it will take to get the site compliant. You can test any pages yourself for free through the UsableNet's Automated Accessibility Testing Tool.
Request a full site scan here.
#4 Ensure your developers understand the experience. Understanding the experience from the user's point of view will help in the development and testing process. A good idea is to map out a typical user flow and have a system test it against screen readers, UsableNet provides this functionality.
#5 Testing all components and user testing. There are three components to test, including the web code, web browser, and the screen reader. Make sure to test all of them. Hiring people of disabilities for user testing is another idea that could help enhance your website significantly.
Final Note
Good and meaningful structures on the master template including navigation establishes confidence that users will be able to accomplish whatever they set out to do. It should be good from the very start in order to set a good impression and then remain consistent throughout.